Ultrasonic Enzyme / Enzymatic Tablets - 64 Tablets Evacuation Cleaner by Defend 728290742140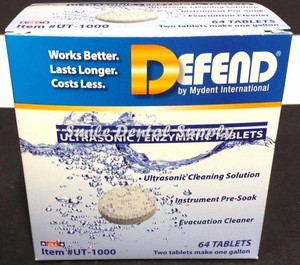 ---
Defend Ultrasonic / Enzymatic 64 Tablets / 1Box #UT-1000 1 Pack of the 64 Tablets  -Ultrasonic Cleaning Solution -Instruments Pre-Soak -Evacuation CleanerFeatures:
Easy-to-use tablets dissolve in a gallon of water in under a minute to create a powerful, effective cleaning solution. 
Greatly assists in the removal of blood, bone, tissue, food particles and other soils that may be resistant to chemical detergents.
Made from a biodegradable, non-chlorine, non-corrosive formulation that contains fast acting protease enzymes. 
Virtually eliminates handling and storage of heavy liquid concentrate. 
May also be used as an instrument pre-soak or as an evacuation system cleaner.
Contains fast-acting protease enzymes and has a pleasant scent.
Safe for amalgam separators.
• Biodegradable, neutral pH• Non-chlorine• Non-corrosiveEXPIRATION DATE of more than the minimum one year from purchase dateDISCLAIMER: The sale of this item may be subject to regulation by the U.S. Food and Drug Administration and state and local regulatory agencies. If the item is subject to FDA regulation, I will verify your status as an authorized purchaser of this item before shipping of the item