Nikon COOLPIX P900 Digital Camera with 83x Optical Zoom and Built-In Wi-Fi 14802100141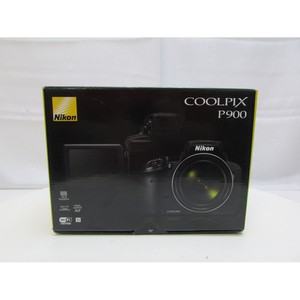 ---
Your satisfaction is our number one goal. Keep in mind that we offer hassle-free returns if needed. If you have any questions or problems, please contact us.

Please Note: All included items are shown in the pictures

1235964338321

Features:

16MP CMOS Sensor 6-level brightness adjustment 24-2000mm 35mm Equivalent Focal Length. Sensor Size: 1/2.3 inch 83x Optical Zoom NIKKOR Super ED VR Lens Vary-Angle TFT LCD Screen Electronic Viewfinder

What's included:

Nikon COOLPIX P900 Digital Camera with 83x Optical Zoom and Built-In Wi-Fi

Condition:

This camera has been previously owned and is in great working condition. It has only been used a few times and has very little wear and tear from use. Comes int he original box.

1235964338321
Payment & Checkout
Checkout: After the auction has ended please click the checkout button to proceed with your payment.Payments: Payments must be received within 3 days. Unpaid cases will automatically be open by 7 days after purchase.Taxes: Sales tax is charged for items shipped to: MN*(6.875%), WI*(5.0%)All Emails and Invoices will be sent to your registered Email Address. If you are not receiving our emails please check your email spam filters.
Shipping
We Ship to confirmed addresses only! Make any changes to your address before paying. All items will be shipped to your confirmed billing address! Shipping Carriers: SurePost, UPS & USPS 1-6 Day. We choose the shipping carrier at our discretion. Local Pickups: Please contact us for local pickup information.
Product Guarantee
We offer a 30 Day Money Back Guarantee unless noted "As Is" or "For Parts or Not Working".
We do not offer returns on international orders.
We do our very best to accurately describe our items, however If you have any problems please contact us right away.
Frequently Asked Questions
What are your operating hours? M-F 9:00am - 5:00PM Central Standard Time Do you ship internationally? We ship internationally on select items. What is the history of the item? Most of our items are used and we do not know the history. We test them and picture their current condition. What's Included? 99% of the time If it's pictured it's included. Please also read "What's included" How long do I have to make payment? You have 3 days to make payment. Prestalia e-commerce solutions. Protect Your Product With a Consumer Priority Service Warranty