NP-FW50 Battery & Dual LCD Charger For Sony Alpha 7R A6500 A6300 A6000 A7r A7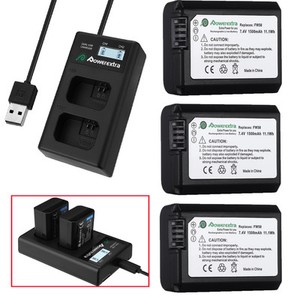 ---
无标题文档
Homepage
ACCESSORIES

Cordless Home Phone Battery
Two Way Radio Battery
Cellphone Accessories
Digital Camera Accessories
EBL Multipurpose Battery & Charger
GoPro Accessories
Laptop Battery
Sporting Goods

BUY IT NOW
ACTION
ON SALE
CLEARENACE
Product Features: Recharge Battery EverywhereWith Powerextra smart charger at hand, you will virtually triple the run time of your camera and also have to option to recharge the battery with a USB wall charger or any external battery pack. More option means more charging time with the battery, and easier to get them ready for lengthy video shoots and extended photo sessions. Ideal for travel and on-the-go photography.Built in USB CableThis lightweight and compact battery charger features a built-in USB charging input that stows away in a designated secure trough to save space and prevent damage. The charger can be charged by power bank,wall charger and other USB devices.Intelligent LCD DisplayThe dual chager is a modern dual battery charger with advanced features and LCD display. The LCD screen will displays each battery charging status and capacity. When the batteries are fully charged and ready for work the process will stop.About battery1. 100% brand new and high quality.2. No memory effect.3. Compatible with original manufacturer equipments and chargers.4. The Replace NP-FW50 Lithium-Ion Battery Pack works with the same Cameras as the Sony NP-FW50. Product Specifications: About charger1. Charger type: USB Charger2. Charger slots: 2 slots3. Features : LCD display; built-in USB4. Charger input : 5V 2.0A5. Charger output: 8.4V 800mAAbout battery1. Battery Type: Lithium-ion battery2. Capacity: 1500mAh3. Voltage: 7.4V4. Weight: 51 g Compatible with:Compatible Part NO:Alpha Sony NP-FW50 NEX-6 NEX-7 NEX-3N NEX-5N NEX-3 NEX-3C NEX-5 NEX-5C SLT-A55 SLT-A33 Alpha A33 Alpha A55Fit ModelAlpha SLT-A33Alpha SLT-A35Alpha SLT-A37Alpha SLT-A55Alpha A7Alpha A7 IIAlpha A7RAlpha A7R IIAlpha A7SAlpha A7S IIAlpha A3000Alpha A5000Alpha A5100Alpha A6000Alpha A6300Alpha A6500Alpha NEX-3NAlpha NEX-5RAlpha NEX-5TAlpha NEX-6Alpha NEX-7Cyber-shot DSC-RX10Cyber-shot DSC-RX10 IICyber-shot DSC-RX10 IIIPackage Include: As your choice1 x Charger1/2/3/4 x Sony NP-FW50 Battery1/2/3/4 x Sony NP-FW50 Battery + Charger Please leave Positive Feedback and 5 Star Ratings for us if you are satisfied with our products and service, and we will do the same for you ! Your satisfaction is our highest priority. Please contact us if you have any questions or requests about our products or service. We are always glad to assist you and stand by our products.
Seller Guarantee 1. 100% Bran-new and Good Quality 2. Item Located:California,United States 3. Handling time: 1 Business Day 4. Fast shipping: USA Fast shipping(1 to 5 Business days) 5. 30 Days Money Back + One Year Warranty
About Us | Newsletter | Feedback | Contact Us Copyright  2015 housmile. All rights reserved.