NEW Nikon 50mm f/1.8G AF-S NIKKOR Lens for DSLR Cameras + Complete Accessory Kit 18208021994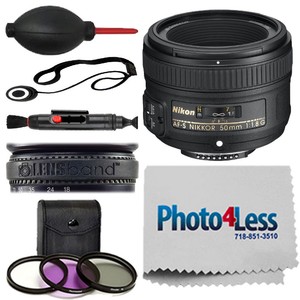 Product Details
Product Information
Fit this 50 millimeter fixed focal length lense on any Nikon DSLR camera. Use the 1.8 maximum aperture setting to take photos in low light conditions. You can create bokeh backgrounds using high shutter speeds and focus precisely using the classic knurling apparatus. Count of the Silent Wave Motor to take photos quietly on objects as close as 17.7 inches. Allow the lens to focus your photo or use the manual override. You can carry this lens with you regardless of the weather.
Product Identifiers
Brand
Nikon
MPN
2199
GTIN
0018208021994
UPC
0018208021994
Model
AF-S NIKKOR
Product ID (ePID)
233777618
Product Key Features
Camera Technology
Digital
Color
Black
Camera Type
DSLR
Focal Length
50mm
Compatible Brand
For Nikon
Series
Nikon NIKKOR
Maximum Aperture
f/1.8
Lens Aperture
F/1.8G
Focus Type
Auto & Manual
Type
Prime
Product Line
Nikon Nikkor
Focal Length Type
Fixed/Prime
Additional Tech Characteristics
AF-S
Mount
Nikon F
Dimensions
Weight
6.6 Oz
Additional Product Features
Diameter
2.8in.
Focal Length (mm)
50mm
Min Aperture
16
Aperture
f/1.8
---
Photo Video 4 Less Store PhotoVideo4Less on | Contact Us via
Store Home
Our Feedback
Add to Favorites
New Arrivals
Items On Sale
Contact Us
OUR categories Store home
Cameras & Photo
Musical Instruments & Gear
Consumer Electronics
Sporting goods
Collectibles
Computers/Tablets & Networking
Cell Phones & Accessories
Home & Garden
Crafts
Business & Industrial
Entertainment Memorabilia
Clothing, Shoes & Accessories
Video Games & Consoles
Jewelry & Watches
Why Choose Us NEW Nikon 50mm f/1.8G AF-S NIKKOR Lens for DSLR Cameras + Complete Accessory Kit
| | |
| --- | --- |
| SKU: NI50F18GIK7 Item: 123089612431 | |
EVERYTHING THAT IS INCLUDED IN THIS LISTING (IMAGES & ITEM DESCRIPTIONS BELOW): Kit Items:
Nikon 50mm f/1.8G AF-S NIKKOR Lens for Nikon Digital SLR Cameras
3 Piece Filter Kit (UV-CPL-FLD) 58mm
7 Piece Camera & Lens Cleaning Kit
Lens Band Stop Zoom Creep for One Size Fits All Lens (Black)
Lens Cap Holder
Deluxe SLR Dust Blower
Vivitar Lens Pen - Bulk HF-LPEN
Main Item Accessories: Detailed Descriptions & Images of all items in this KIT/Bundle: Nikon 50mm f/1.8G AF-S NIKKOR Lens for Nikon Digital SLR Cameras SKU: NI50F18GI ITEM DESCRIPTION:The AF-S NIKKOR 50mm f/1.8G Lens from Nikon is an attractive alternative to the classic 50mm f/1.4 "normal" lens for everyday shooting with an FX or 35mm camera. The 50mm f/1.8 is nearly as "fast" as the f/1.4 and provides reduced lens flare and ghosting as well as superior color consistency through the use of Nikon's Super Integrated Lens Coating. One aspherical lens element virtually eliminates coma and spherical aberration. Nikon's Silent Wave Motor gives you smooth, silent and precise autofocus operation, and the M/A mode lets you quickly and easily override the autofocus system for fine manual focusing. This lens is also compatible with DX cameras and when used with a DX camera, the angle of view would be equivalent to a 75mm focal length lens. KEY FEATURES & SPECIFICATIONS:
F Mount Lens/FX Format
Aperture Range: f/1.8 to 16
One Aspherical Lens Element
Super Integrated Lens Coating
Silent Wave Motor AF System
M/A Mode; Manual Focus Override
Minimum Focus Distance: 17.7"
Filter Diameter: 58mm
Seven-Blade Diaphragm
IN THE BOX:
58mm Snap-On Lens Cap
LF-4 Rear Lens Cap
HB-47 Bayonet Lens Hood
CL-1013 Soft Lens Case
3 Piece Filter Kit (UV-CPL-FLD) 58mm SKU: GB58FK3 ITEM DESCRIPTION:These filters, made from the finest solid optical glass, are ground and polished to the most practical thinness. In addition, they are heat-treated to avoid any distortion or focal shift, and each filter is subject to strict tests in order to ensure a flawless, even surface, which is essential to a quality filter and exceptional photographs. 1. Fits 58mm lenses 2. Ideal for protecting your valuable lens from scratches and dust 3. UV filter absorbs ultraviolet rays to produce crisp, clear photographs 4. Polarizing filter eliminates reflections from non-metallic surfaces, and increases contrast and color saturation 5. FLD filter helps balance light in outdoor situations or where fluorescent lights are used KEY FEATURES & SPECIFICATIONS:
Fits 58mm lenses
Ideal for protecting your valuable lens from scratches and dust
IN THE BOX:
Ultraviolet (UV) Filter
Fluorescent Light Correction (FLD) Filter
Circular Polarizing (CPL) Filter
Filter Case
7 Piece Camera & Lens Cleaning Kit SKU: GBCLK7 ITEM DESCRIPTION:       This convenient 7 piece cleaning kit is a must for all photographers to have on hand at all times. Some adorable little hands got a hold of your camera & smudged your lens? - stay unfazed - just pull out the lens solution spray bottle, cotton swabs & microfiber cleaning cloth and with one swap your lens will be good as new and ready for the next shot. The cleaning kit also includes a dust blower brush combo for a more intense cleaning, as well as a squeegee card & mini table-top tripod.  KEY FEATURES & SPECIFICATIONS:
• Mini Table-Top Tripod
• Dust Blower Brush Combo
• 2 Screen Protectors 3x5"
• Squeegee Card
• Microfiber Cleaning Cloth
• Lens Solution Spray Bottle
• 5 Cotton Swabs
IN THE BOX: 7 Piece Camera & Lens Accessory Kit Lens Band Stop Zoom Creep for One Size Fits All Lens (Black) SKU: LBLBBK ITEM DESCRIPTION:The black Lens Band from Lens Band is a unique solution to an age old problem. When using zoom lenses, especially extra long zooms, there is often a tendency for the lens barrel to creep, i.e. extend due to its own weight when pointed either upward or downward. The Lens Band presents a simple and unique solution to this issue. The strong silicone rubber band stretches over the zoom ring of your lens and holds it firmly in place. In addition to preventing this kind of problem, it also aids when shooting with a tripod where slower shutter speeds may be required, such as in macro photography when operation of the zoom ring may not be required. For anyone who works out in the field and carries or hangs his camera over his shoulder, lens creep is a common problem that can cause undo stress on the both the lens and your back. The inexpensive Lens Band offers you a straightforward solution to this potentially nagging problem. KEY FEATURES & SPECIFICATIONS:
Helps to Prevent Zoom Creep
Fit Zoom Rings from 67 to 110mm
Band Stretches Tightly Over Lens Barrel
Made From Silicone Rubber
Also Helps to Remove Stuck Filters
Dimensions: 4 x 0.3 x 9" / 10.16 x 0.76 x 22.86 cm
IN THE BOX:
Lens Band Stop Zoom Creep for One Size Fits All Lens, Black
Lens Cap Holder SKU: GBLCH ITEM DESCRIPTION:Prevents lens cap loss with adhesive-backed disc attached lens cap. Holder has an elastic band which fits around the lens barrel for use with SLR type cameras. A small button tapes onto the front of your lens cap and the elastic loop goes around the barrel of your lens so that your lens cap always remains attached, hanging from the lens. KEY FEATURES & SPECIFICATIONS:
Never lose your lens cap again
Convenient
IN THE BOX: Deluxe SLR Dust Blower SKU: GBDBRD ITEM DESCRIPTION:Professional dust blower safely cleans your camera equipment. It's perfect for keeping your traditional camera/digital camera/camcorder/lens/LCD screen/binoculars & other electronic devices clean. KEY FEATURES & SPECIFICATIONS:
Safe for lenses, including multi-Coated Surfaces
Perfect for keeping your camera clean
Safe for all lenses and surfaces
IN THE BOX: Deluxe SLR Dust Blower Vivitar Lens Pen - Bulk HF-LPEN SKU: VICLLPBU ITEM DESCRIPTION:Vivitar Lens Cleaner provides a better solution to keep your digital camera and camcorder lens clean.It removes fingerprints and smudges on your lens without scratching or streaking. It is portable, light, easy to use and does the job quickly - it even gets to those hard to reach places. This product can also be used for other electronic devices like DVD players, laptops, mobile phones, GPS units and MP3 devices. KEY FEATURES & SPECIFICATIONS:  Color: Black IN THE BOX: Need assistance? CONTACT US TODAY! Terms Returns About Contact Warranties Local Pick Up Our Process: Directly following the placement of your order an invoice will be sent to the email address registered with . If an email from us has not been received, check your spam folder, if it's not there, contact us via : Contact PhotoVideo4Less on . Do we accept PayPal? YES! We accept PayPal payments from all countries. Please be advised PayPal payments may be subject to verification to protect against fraudulent accounts. Alternate Billing/Shipping Address: If your shipping address is different than your billing address, certain verification will be necessary. On payments made through credit card with an alternate shipping address, Photovideo4less will request a secondary address to be listed with the issuing bank. What happens if we need more verification? If we require further verification, we will send you an email at the email address registered with , or contact you at the phone number provided. PhotoVideo4Less reserves the right to refuse orders which the address, phone number or credit card cannot be verified. International Orders: International orders may be subject to local import fees, duty, customs, VAT charges or additional taxes, depending on the country of destination tax laws. PhotoVideo4Less is not responsible for any of these tax charges, nor can we offer any specific advice on import fees, duty, customs, VAT or taxes that you may be obligated to pay upon the arrival of your merchandise. Should you have any questions or requests for specific information regarding any of these potential charges, we advise you to consult with your local government import office. How long does it take from when I order for the shipment to leave the warehouse? We usually process all orders within 24 hours of receipt of payment, barring any verification delays. SHIPPING TERMS: We ship with tracking numbers using the following companies: UPS and USPS. We ship worldwide, to APO/FPO addresses included. Merchandise will be shipped from our warehouse promptly after verification of your information and that your payment has been cleared and completed. Upgraded Shipping Available: Please note that this option is available upon request. Please contact us for further information. Packages above a minimal price may be subject to a signature upon delivery. Please make your arrangements accordingly. NO HIDDEN FEES APPLY. When returning an item you must contact Customer Service at: Contact PhotoVideo4Less on to obtain a Return Merchandise Authorization Number (RMA#) prior to returning the item.
We can only accept a return if it is returned to us in the original manufacturer's packaging, same condition as sold, and with all literature/instructions/documentation and blank warranty cards.
Place the manufacturer's box into a shipping carton. Please do not place stickers or shipping labels on the original manufacturer's packaging.
The customer is responsible for arranging the return shipping and for its costs. For your protection, we advise that you should please insure the package and ship via a traceable method.
Our 30-day exchange policy applies to items received in defective condition. For return authorization please contact us via phone or email within this time frame. Merchandise shipped back without an RMA will be returned at the buyer's expense. Please note - A package refusal will be recognized as an unauthorized return in which a 5% restocking fee, as well as the cost for the returned shipment, will apply. Items that are shipped free, if returned, a refund less our original shipping cost will be given. sales are final! A 5% handling and processing charge will apply for orders that are returned. PhotoVideo4Less on is known for providing cameras and photography equipment for the professional photographers' industry since 2005. Although we specialize in professional photography equipment we carry a large selection for the amateur photographer as well. We attribute our success to our competitive pricing and to our high standards of honesty and integrity. We stand behind our products as being the top quality that customers expect to receive. Our high standard of honesty has gained us a respectful reputation in the photography industry and has earned us many repeat and friend referred customers. When browsing our store, keep in mind that our friendly and knowledgeable staff are always ready to help you in finding the right equipment. So browse at ease and enjoy the widest selection of cameras, camcorders, printers, scanners, lighting equipment, tripods, lenses, flashes and much more. At "Photovideo4less" customer satisfaction is our top priority. We love our customers and are eager to leave positive feedback once payment has been finalized. We are confident that our customers will feel the same about us and express so by leaving us a 5-star rating on . Please note: The images of some accessories may not reflect the actual item shipped. At times, we may substitute accessories for similar ones of equal or greater value. We want to better serve you, please call us. We are open Monday through Friday. To speak to a live representative, contact us via : Contact PhotoVideo4Less on . Hours of Operation: New York (EST) Monday - Thursday: 10:00 AM - 5:30 PM Friday: 9:30 AM - 1:00 PM We are closed on weekends & holidays. For around the clock communication please send us an email anytime. We will get back to you very shortly.
| | |
| --- | --- |
| If the item listed comes provided with a manufacturer warranty, we will specify this information in the Product Description area.You can contact us for detailed warranty information and options. | |
Local pickup is also available at our Brooklyn location. Please contact us via : Contact PhotoVideo4Less on for the necessary arrangements prior to purchasing. Add us as your favorite Seller Sign up for our newsletter Click here to Subscribe to our Newsletter. Get all the Latest News, Updates and Special Offers about Our Store. Follow & Share with Us We are trending on Social Media. Follow us and stay updated with our Latest Post, Blogs, Images.
Facebook: /ThePhoto4Less
Twitter: @Photo4Less
Pinterest: /Photo4Less
Instagram: @Photo4Less
YouTube: /Photo4Less
Payment options We accept PayPal & we are Verified. PayPal allows you to use all types of credit and debit cards:
Our Store
Our Feedback
New Arrivals
Contact Us
© Copyright 2003-2018 by Photovideo4less. All rights reserved. Protect Your Product With a Consumer Priority Service Warranty