For 97-01 HONDA CRV Rear Driveshaft Assembly Propeller Drive Shaft - 4x4 ONLY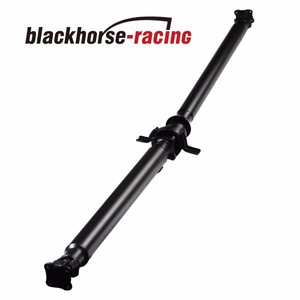 ---
Description: 100% brand new, Never been tried or installed Premium Quality Heavy Duty Driveshaft REPLACEABLE U-JOINTS INSTALLED High Quality Center support and bearing Computer balanced at 3500 RPM for vibration free product Painted with Anti-Corrosion Paint to Prevent Rust Especially for areas of the Country were Snow and Salt are Present. Professional installation is highly recommended No instructions includedPackage including: 1 X Front Drive Shaft Kit As Shown in the Picture aboveFitment: For 97-01 HONDA CRV Rear Driveshaft Assembly Propeller Drive Shaft - 4x4 ONLY

Description:

100% brand new, Never been tried or installed Premium Quality Heavy Duty Driveshaft REPLACEABLE U-JOINTS INSTALLED High Quality Center support and bearing Computer balanced at 3500 RPM for vibration free product Painted with Anti-Corrosion Paint to Prevent Rust Especially for areas of the Country were Snow and Salt are Present. Professional installation is highly recommended No instructions included

Package including:

1 X Front Drive Shaft Kit As Shown in the Picture above

Fitment:

HONDA CR-V 1997 - 2001 4x4 Models Only Transmission: Manual and Auto For Year and Model, Please Check Compatibility Payment   We accept PayPal payment and other payments through PayPal

 

 

Shipping

 

Items will be shipped within 1-3 business days after your payment is cleared. All Customer's items will be shipped from our CA or NJ warehourse Import duties, taxes and charges are not included in the item price or shipping charges International orders may take 1~3 weeks to arrive

 

 

Returns

 

You can return your unused items back for exchange or refund within 60 days. Please contact us for return process before you return the item.

 

 

Contact us

 

If you have any other needs or need helps,you can send messages to us,our customers  will reply to solve your problem with one business day.

Our StoreMain ProductsPromotion Items
Shop Category Store Home  Exhaust Systems ◈  Exhaust Manifolds & Headers ◈  Exhaust Pipes & Tips ◈  Exhaust Tips ◈  Mufflers ◈  V Clamps ◈  Turbo Chargers & Parts ◈  Exhaust Wraps ◈  Exhaust cutout  Intake Systems ◈  EGR Valves & Parts ◈  Air Intake Systems ◈  Cylinder Heads & Parts  Timing Components ◈  Timing Chain Kit ◈  Timing Belt Water Pump Kit ◈  Control Solenoid Valve  Suspension & Steering ◈  Shocks & Struts ◈  Coil Springs ◈  Caster/Camber Kits ◈  Lift Kits & Parts  Chassis Parts ◈  Control Arms & Parts ◈  Control Arms & Parts-OEM ◈  Control Arms ◈  Sway Bars ◈  Caster/Camber Kits  Engines & Components ◈  Motor Mounts  Cooling Systems ◈  Fans & Kits ◈  Radiators & Parts ◈  Intercooler Piping Kit  Exterior ◈  Grilles ◈  Towing & Hauling  Brakes & Brake Parts ◈  Air Dryers ◈  Master Cylinders & Parts  Interior ◈  Dash Parts ◈  Locks & Hardware  Automotive Repair Kits ◈  Dent Repair Kits & Tools ◈  Diagnostic Service Tools  Other Parts ◈  Go Kart Parts ◈  Connectors & Terminals  Lighting & Lamps ◈  Xenon Lights  Gaskets ◈  Cyl. Head & Valve Cover Gasket  Hangers, Clamps & Flanges ◈  T Clamps ◈  Narrow Clamps ◈  Step Clamps ◈  Butt Joint Clamp  Transmission & Drivetrain ◈  Universal Joints & Driveshafts  Air Intake & Fuel Delivery ◈  Fuel Inject. Controls & Parts  Turbos, Nitrous, Superchargers ◈  Turbo Chargers & Parts ◈  Turbo Chargers Rebuild Kit  Fuel oil line & fitting ◈  Fuel oil line ◈  Fuel oil fitting  OtherHot Item

8PCS Glow Plugs For Ford 6.0L 04-07 Super Duty F250 F350 Diesel 4C3Z-12A342-AA
USD 13.99

EGR Bypass And Delete kit For Ford 2003-2007 F250 6.0L Powerstroke Diesel
USD 22.88

2.5''63mm V-Band Flange+Clamp Male/Female Lip W/Ridge Turbo Downpipe Exhaust Kit
USD 12.66

1PC 2.75" (2.99"-3.31") 301 Stainless Steel T Bolt Clamps Clamp 77mm-85mm
USD 1.78

2" Front Leveling lift kit Fit Chevy Silverado GMC Sierra GM 1500 LM 07-17 Black
USD 18.88

PictureNew List Item

1Pcs 2.5"X3.5" Duo Straight Exhaust Pipe Tip Blue Burnt Polished Stainless Steel
USD 28.99

3"Electric Exhaust Downpipe Cutout E-Cut Out Valve CONTROLLER REMOTE KIT NEW
USD 51.55

1PC Staggered Polished Stainless 2.5"In 3.5"Out Muffler Dual Exhaust Pipe Silver
USD 29.99

EXHAUST MANIFOLD FAT FENDER WELL HEADER FOR CHEVY SMALL BLOCK 265-400 V8 35-48
USD 115.55

3" Cast Stainless Steel Catless Downpipes Fits S55 2015-2018 BMW M3 & M4
USD 236.66

For 97-01 HONDA CRV Rear Driveshaft Assembly Propeller Drive Shaft - 4x4 ONLY

Description:

100% brand new, Never been tried or installed Premium Quality Heavy Duty Driveshaft REPLACEABLE U-JOINTS INSTALLED High Quality Center support and bearing Computer balanced at 3500 RPM for vibration free product Painted with Anti-Corrosion Paint to Prevent Rust Especially for areas of the Country were Snow and Salt are Present. Professional installation is highly recommended No instructions included

Package including:

1 X Front Drive Shaft Kit As Shown in the Picture above

Fitment:

HONDA CR-V 1997 - 2001 4x4 Models Only Transmission: Manual and Auto For Year and Model, Please Check Compatibility Payment   We accept PayPal payment and other payments through PayPal

 

 

Shipping

 

Items will be shipped within 1-3 business days after your payment is cleared. All Customer's items will be shipped from our CA or NJ warehourse Import duties, taxes and charges are not included in the item price or shipping charges International orders may take 1~3 weeks to arrive

 

 

Returns

 

You can return your unused items back for exchange or refund within 60 days. Please contact us for return process before you return the item.

 

 

Contact us

 

If you have any other needs or need helps,you can send messages to us,our customers  will reply to solve your problem with one business day.
Powered by SoldEazy