Digital Voice Recorder Dictaphone Audio Sound Recorder Mini Small MP3 Lecture 703929590064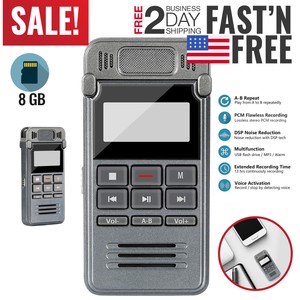 ---
Digital Voice Recorder Dictaphone Audio Sound Recorder Mini Small MP3 Lecture Description and features: Digital Voice Recorder Dictaphone Audio Sound Recorder Mini Small MP3 Lecture Whether it's for a work meeting, school lecture, recording music or just collecting thoughts, the digital voice recorder offers a unique service. Pocket-friendly, inexpensive digital voice recorder maintains its niche. Digital voice recorder is ideal for students, radio journalists, and anyone who needs to record meetings for future reference.
8GB CAPACITY STORAGE: 8GB memory audio recorder could store up to 560 hours recordings file (when set recording quality at 32kpbs). Automatically save files when battery power is low etc.
EXTENDED RECORDING TIME: digital voice recorder built-in big capacity battery which provides 13 hours continuously recording time. Fully charge your recorder in Only 1 hour.
SUPERIOR RECORDING QUALITY: Up to 384kbps bit rates and professional dynamic NOISE REDUCTION allowing you to record clear recordings in noisy environments. Extra adjustable sensitivity levels microphones allow high-fidelity recording in 50ft.
MORE FUNCTIONS: Support voice activated mode, A-B repeat and adjustable playback and MP3 playing. Excellent codec supports music in MP3/WMA/WAV/APE/FLAC formats. Powerful speakers of this sound recorder liberate ears from headphones.
Noise Reduction Voice Recorder intake voices clearly by AGC noise reduction technique. Record from far away and remove noise properly. Always save clearly voices and ready to play at anytime. A-B Repeat Playback In recording or music file playing mode, press" A-B " repeat button once to select start point of AB repeat and B on the screen starts flashing; press "A-B" button again to select end point of AB repeat and start repeating the part of music file between A and B. Fast USB Transfer Matching Windows/Mac OS through 2.0 USB port. The high-speed USB cable can make sure the file transfer speed and charging speed. Maximum 1 hour charging time to fulfill the battery which can hold up for 13 hrs recording MP3 / USB Flash Drive Voice recorder function as a detachable data storage device and a MP3. Simply drag-and-drop files to or from it via USB connection. so you don't need to have another flash drive with you when you take voice recorder. Payment & Shipping: Digital Voice Recorder Dictaphone Audio Sound Recorder Mini Small MP3 Lecture
PayPal is the only payment method accepted through our store.
We provide 2 business days shipping service and we usually need 1 business day for handling time. Orders are processed from Sunday-Monday.
Please note that we don't ship to PO BOX. If you place the order with shipping address, including PO BOX, shipping time may take up to 7 business days.
Return policy We provide free returns. You may return most new, unopened items within 30 days of delivery for a full refund. Contact us
Please contact us via message. And your message will be replied within 1 business days. For any queries, please feel free to contact us, we will get back to you as quickly as possible.
Customer 100% satisfaction is our first priority and goal. We are always working hard for maintain high standards of excellence and resolve your problem in best way. So your POSITIVE FEEDBACK is very important.
If you have any problem of the item, please feel free to let us know before leaving your feedback. We will try our best to solve your problem.
About us We are here to give you quality products, competitive pricing and amazing service in order to make sure you get the best deal online. Thank you for your business and the opportunity to serve you.