AmScope 52pc 120X-1200X Starter Compound Microscope Science Kit for Kids (White) 793625008246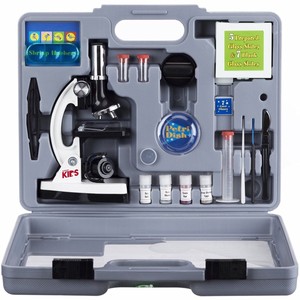 ---
AmScope 52pc 120X-1200X Starter Compound Microscope Science Kit for Kids (White) Model No: M30-ABS-KT2-W
Key Features:
120X, 240X, 300X, 480X, 600X and 1200X six magnification beginner microscope
Durable metal arm with stage and clips
Reflecting mirror for natural illumination; built-in light for direct illumination
Built-in Rotating color filter wheel; power indicator on rotating turret
ABS case and 2 AA batteries included
Detailed Description THE ULTIMATE MICROSCOPE FOR KIDS Ready to use right out of the box. a great starter kit with 49 accessories and hard sided plastic ABS case. Create your own discoveries with reusable blank slides and covers, tweezers, eye dropper, Petri dish and more... PORTABLE ........ EASY TO CARRY CASE With 49 accessories included and an easy to carry case kids can conduct safe and fun experiments and activities all on their own. GREAT FOR GIFTING Providing endless hours of fun, this kit is the perfect gift for boys and girls of all ages. It's the perfect tool for your budding scientist. COMPLETE BRINE SHRIMP EXPERIMENT Observe the life cycle of tiny ocean creatures and gain hands-on experience in the scientific method, visual analysis, note-taking and more. AMSCOPE-KIDS microscopes are made of the finest materials and with the best optics to ensure that you get precise answers and solutions to all your endeavors. This science microscopy kit includes a great beginner level biological microscope equipped with advanced features and all the necessities of accessories. The microscope features six magnifications of 120X, 240X, 300X, 480X, 600X and 1200X, a single coaxial coarse focus knob, a specimen stage with two built-in stage clips, and a nature light and/or LED illumination system. It can be illuminated with either nature light through a mirror or by the built-in LED light that provides direct control of light. The microscope has a durable metal arm that makes it a great value. The kit comes with sample slides, cover slips, plastic tweezers, a plastic scalpel, specimen vials, adjustable lenses, collecting vials, plus a sturdy hard case for easy storage and travel. This set is great for beginning scientists. Features :
120X, 240X, 300X, 480X, 600X and 1200X six magnification beginner microscope with metal construction
Built-in light for direct illumination.
Reflecting mirror for natural illumination
Battery compartment for 2 AA-size.
Built-in rotating color filter wheel.
Specimen stage with stage clips.
Includes: plastic scalpel, plastic spatula, plastic tweezers.
Specifications :
Magnifications: 120X, 240X, 300X, 480X, 600X and 1200X.
Body Type: durable metal arm
Illumination: built-in LED light and reflecting mirror.
Eyepiece: holder type single.
Stage: 70 x 65mm.
Slide Holder: dual spring clips.
Accessory Set: 1 shrimp hatchery, 1 specimen slicer, 5 prepared slides, 7 blank slides, 1 petri dish, 7 slide cover, 1 plastic tweezer, 1 graduated cylinder, 1 spare bulb, 7 statical slide covers, 7 slide labels, 1 plastic scalpel, 1 plastic spatula, 1 needle, 1 plastic stirring rod, 1 eosin, 1 gum media in a bottle, 1 sea salt, 1 brine shrimp eggs, 2 collecting vials, 2 AA batteries.
Packing List :
Beginner microscope
Accessory set
Hard ABS case

  Shipping & Handling (Important Expedited Shipping Info!) All orders ship within 1 business day from our Southern California warehouseDomestic US (contiguous 48 states)
Free Ground (4-5 bus. days)
Calculated Expedited (2-Day Shipping!) ( does not show accurate handling times for this service.)
Alaska, Hawaii, Puerto Rico
Calculated Expedited (2-3 Bus. Days)
International
Calculated via GSP(VAT and Customs fees included)
Have Questions? Click "Contact Seller" above! Our expert California-based support team is available M-F 6am PST to 5pm PST and can be reached via phone or  messages.We are more than happy to help you find the right product for you or answer questions about an order you've already placed. 30 Day Returns If you no longer need the itemPlease open an Return request within 30 days of receipt.  You will be responsible for return shipping charges.But if there is a problem with the itemPlease contact our support team FIRST!  80% of the time, the problem can be resolved within a few messages.If a solution cannot be found, please open an Return request within 30 days of receipt.Return Notes
Returns not processed through Returns will be returned to sender
Returns must include all original items or else a restocking fee may be applied.
All returns will be inspected per the buyer's return reason.  A 10% restocking fee will be applied if the complaint is invalid.
Returns cannot be opened after 30 days.  However, the item may be eligible for a warranty claim (see below)
Warranty We, AmScope, provide all warranty services including repairs and replacements.
5 Year Warranty for all complete Microscopes - Against manufacturing defects, covering labor and parts.
1 Year Warranty for Accessories and sold-separate microscope parts - (USB cameras, lighting, articulating arms, stands, objective lens, stages, etc).
No warranty for consumable accessories such as bulbs, slides, or hand tools
To start a Warranty claim, please contact us through Messages to obtain a claim number.  Buyer will be responsible for return shipping.Once received, most claims are processed within 1-2 weeks, stock permitting.  Once processed, please allow 1-2 weeks for delivery of repaired/replaced unit About AmscopeSince 1998, America's doctors, researchers, educators, forensic scientists, and electronic designers have trusted AmScope to deliver high quality microscope solutions for their precision educational and research needs.Our products are manufactured under strict ISO 9001 quality control standards, and are made by the same technicians that make much more expensive Zeiss, Leica, Nikon, and Olympus.By designing, manufacturing, and distributing our own AmScope brand microscopes and accessories, we keep products affordable while maintaining quality precision.With over 500 models in stock, we are confident that we can meet your microscope needs whether you're a hobbyist, an educator, or an advanced research institution.Our goal is to assist great minds in reaching that "Eureka" moment.  Our promise: When you use Amscope, you'll see things bigger!