8X10 MASTERPIECE MINT 300KPSI HQ HAND KNOTTED WOOL FLORAL TABRIZZ ORIENTAL RUG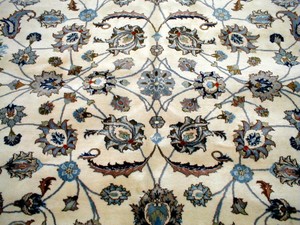 ---
<div style="text-align:center"><img src="http://ti2.auctiva.com/sw/java.gif" border="0"><br><table align="center"><tr><td><a style="text-decoration:none" href="http://emporium.auctiva.com/gallery99" target="_blank"><img src="http://ti2.auctiva.com/sw/browse2.gif" border="0"></a></td><td height="21px" valign="middle" align="center"><font face="arial" size="2"><b><a href="http://emporium.auctiva.com/gallery99" target="_blank">gallery99</a> Store</b></font></td></tr></table></div>
MAY GOD PROTECT AND DEFEND OUR TROOPS
PAST AND PRESENT WHEREVER THEY ARE
 Gallery99 Collection
8X10 MASTERPIECE MINT 300+KPSI HQ HAND KNOTTED WOOL FLORAL TABRIZZ ORIENTAL RUG
PLEASE VIEW ALL PICTURES, THEY ARE PART OF THE DESCRIPTION
Rug Number : 65032809-NY

Exact Size : 9'7" X 8'2"

Weave : %100 Hand Knotted

Style : Masterpiece High Quality

Age : 1960's Mint, Superb and Excellent

Design : Magnificent Floral

Condition :  Mint, Superb and Excellent. Master Knotted and high quality at over 300 KPSI, Magnificent Colors, Superb Fine quality and Incredible design, Very soft Wool Pile, no repairs, no holes, a true treasure from our hearts to your sweet Home. May you enjoy it in a lifetime of health and happiness.

Please see all pictures.

Pile : Soft Wool

Remarks: Clean and ready to be enjoyed

Foundation : Cotton

KPSI: 250 to 300 Superb Quality

Field Color : Ivory

SHI Mainland USA: $75

Border Color : Light Caramel

Retail Value : $10,000 to $12,000

Policies : PLEASE CONTACT US DIRECTLY FIRST IF THERE IS AN ISSUE WITH YOUR PURCHASE AND GIVE US A CHANCE TO GAIN YOUR TOTAL SATISFACTION. WE ARE HERE FOR YOU.Colors may differ in person due to different monitor settings.If you are not completely satisfied with your purchase you can send the rug back within 14 days of receipt. We will refund your full purchase price. Hassle-Free Returns.

PLEASE NOTE: WE ONLY SHIP TO ADDRESSES IN MAINLAND USA.Our digital images are as accurate as possible. However, different monitors may cause colors to vary slightly.Our items are hand knotted. Colors can vary and slight imperfections in the rugs are normal and considered evidence of the hand knotting process which adds character and authenticity to them.Shipping is ONLY FOR THE 48 CONTIGUOUS USA STATES .
Your business is very important to us. We understand that we must earn your trust every day. Weare striving for high ratings to enable us to serve you even better. We appreciate your ratingsand patronage.PLEASE CONTACT US BEFORE LEAVING ANY LOW RATING,THIS IS CRUCIAL TO OUR BUSINESS, WE APPRECIATE IT VERY MUCH.PLEASE CONTACT US DIRECTLY FIRST IF THERE IS AN ISSUE. PLEASE DO NOT OPENA CASE BEFORE GIVING US A CHANCE TO RESOLVE ANY ISSUES TOYOUR SATISFACTION. WE ARE HERE FOR YOU.Please contact us prior to leaving a non-positive feedback, we will do what it takes to make sureyou are satisfied in your dealings with us.516-439-5400.... STEVEN